Maryland Legal Services Corporation
Annual Awards Reception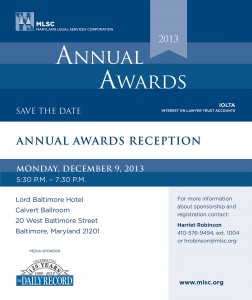 Monday, December 9, 2013
5:30 – 7:30 p.m.
Lord Baltimore Hotel, Calvert Ball Room, 20 West Baltimore Street
Baltimore, MD 21201
Directions
Join us to honor the leadership and outstanding advocacy of:
Manuel R. Geraldo • Carolyn S. Malinowski • Barbara A. Samuels • Nancy F. Aiken, Ph.D. • Angelique Green-Manning • Open Society Institute-Baltimore • Delegate Guy J. Guzzone
Tickets: General – $60; MLSC Grantee Staff and Law Students – $40
Contribution Opportunities: $2,500 – Sustaining Partner (10 tickets); $1,000 – Patron (4 tickets); $500 – Donor (2 tickets); $250 – Sponsor (1 ticket)
You may make a contribution or purchase tickets using the reception reply card and returning it with your check to: Maryland Legal Services Corporation, 15 Charles Plaza, Suite 102, Baltimore, MD 21201. All reservations will be held at the door.
For more information about sponsorship and registration contact:
Harriet Robinson, hrobinson@mlsc.org or 410-576-9494, ext. 1004.
Sustaining Partners, Patrons, Donors, and Sponsors will be recognized in The Daily Record, at the Annual Awards Reception and in our Annual Report. Contributions must be received by November 27. Please provide name/organization as it should appear in the publications. You will receive a receipt for your contribution, indicating the amount that is tax deductible.