Archive for the 'Uncategorized' Category
Thursday, December 18th, 2014
The American IOLTA programs, modeled on similar programs begun successfully in Canada, Australia and elsewhere in the 1970s, originated in Florida in 1981 to help replace federal and state funding cuts to civil legal services for the poor. Maryland was the fourth state to establish IOLTA.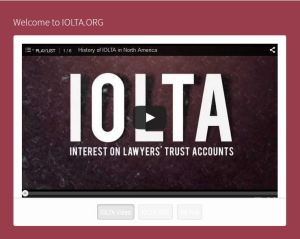 Today, all 50 states, the District of Columbia, and the U.S. Virgin Islands operate IOLTA programs. Forty-four jurisdictions require lawyers to participate in IOLTA. Lawyers can opt out of participation in 6 jurisdictions, and participation is voluntary in two others.
For more about IOLTA, see the History of IOLTA in North America, a 3-minute video presented by the ABA Commission on IOLTA and The National Association of IOLTA Programs, with generous support from The Florida Bar Foundation, The Law Foundation of British Columbia, and The Alberta Law Foundation.