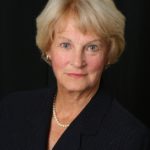 August 17, 2016, Baltimore, MD – Governor Larry Hogan has appointed Hon. Martha F. Rasin of Anne Arundel County, retired chief judge of the District Court of Maryland, to the Maryland Legal Services Corporation's nine-member Board of Directors.
Judge Rasin improved systems for victims of domestic violence, increased pay for the Judiciary professional workforce and enhanced courthouse facilities, operations and security as chief judge. She previously was associate judge and then administrative judge of the same court. Currently, she is a director of Peoples Bank and Peoples Bancorp, Inc. of Chestertown.  Judge Rasin taught courses and conducted seminars at the law schools of the University of Maryland and University of Baltimore.
She conducted several on-site studies of international court systems and participated in an American Bar Association assessment of proposed legislation in Ukraine and assessment of legal code in Georgia. She is a graduate of the University of Baltimore School of Law and a member of the Maryland, Anne Arundel County and Kent County bar associations.
MLSC was established by the Maryland General Assembly in 1982 to receive and distribute funds to nonprofit organizations that provide civil legal assistance to low-income persons. From its inception, MLSC has made grants totaling over $200 million to help provide services in more than 2 million legal matters for Maryland's families in areas of family, housing, consumer, employment, health care and other civil legal matters.